The First Signalproof Apparel
SHIELD is the first stylish & comfortable EMF protective clothing with more than 20,000 customers around the globe. It fits perfectly and blocks a wide range of electromagnetic radiation (including 5G). Powered by pure silver.
Blocks over 99% of electromagnetic radiation (EMF).
What Our Customers Say About Us
I'm very happy with your products (ordered one baseball cap and one beanie. Although i had no expectations i feel more calm and less agitated than before. Cannot say if its placebo, but i feel i can focus more and has slightly less "brain-fog". So i would say your product helps to reduce the EMF, or at least minimize its effect on the human brain, and increase quality-sleep.

Fredrik, Sweden
Amazing stuff by the way, I was testing it with a radiation monitor, fantastic clothing.

Paul, United Kingdom
Love UR Shield products, like to buy some more, I had no idea it would help me so much!

Angelina, Netherlands
I lost my beanie on the lake. Works so good.. Tested it with an EMF tester and it was 100% effective. I just bought another. Also got the camo hat and the knit hat. Nice products.

Bobby, San Francisco
I received my order and what beautiful products! I'm impressed. I've tested your products with EMF meter and as you can see, the t-shirt does the excellent job.

Peter, Netherlands
✅ Worldwide & Free Shipping
We ship all over the world. No matter where you're the delivery is always guaranteed.
Each order over 170€ gets free shipping with the DHL or GLS courier.
Our customer support is ready to answer any questions regarding shipping and product.
✅ Blocks Wide Spectrum of EMF
Our apparel blocks high-frequency and low-frequency radiation and protects from 5G.
Very high screening attenuation keeps you safe from wifi pollution, cell phone signal or other electromagnetic radiation.
Shielding effectiveness is 99% up to 80db.
✅ Certified & Tested Shielding Silver Fabric
Silver fibres bring positively charged silver ions that create a conductive field and reflects electromagnetic radiation.
It is anti-microbial, antiodor, antistatic and has positive impact on internal heat regulation and blood circulation.
Be in the know and subscribe!
Stay up to date with our products or get notified about new arrivals.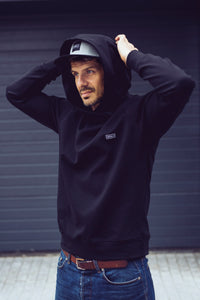 About SHIELD Signalproof Apparel
SHIELD is pioneering the techfashion market with the most functional apparel of 21st century since 2016. 
Our EMF protective clothing blocks electromagnetic radiation emitted by devices around us. Now, everybody has the fashionable option to shield himself from electromagnetic frequencies.
------------------------------------------------------------------------
✔  WORLDWIDE SHIPPING. FREE DHL ON ALL ORDERS OVER 170€
✔ MADE OUT OF SHIELDING SILVER FABRIC
✔ PROTECTS FROM 5G AND WIDE SPECTRUM OF EMF
✔ BLOCKS HIGH-FREQUENCY & LOW-FREQUENCY RADIATION
✔ ANTIMICROBIAL, ANTI-ODOR, ANTISTATIC & SIGNAL-BLOCKING
✔ FULLY WASHABLE, DURABLE & EASY TO MAINTAIN
✔ DEDICATED & SUPER FRIENDLY CUSTOMER SUPPORT
✔ COMMITTED TO ENVIRONMENTAL SUSTAINABILITY AND HIGH QUALITY.
✔ FUNDED WITH KICKSTARTER